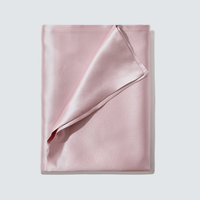 100% Silk Pillowcase for Well-Aging, Blush Pink
Get your beauty sleep on this 100% silk pillowcase. It prevents hair breakage and wrinkles as silk is extremely gentle on your skin and hair. Silk also allows your skin and hair to retain moisture as it is less absorbent compared to cotton pillowcases. 
The smooth surface of this silk pillowcase protects your hair from breakage, tangles, and frizz, and reduces creases and wrinkles on the skin. It has an envelope-style closure and fits all standard pillows. Great for sensitive skin as silk is hypoallergenic and does not collect dust and other household mites.