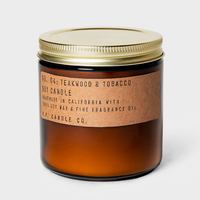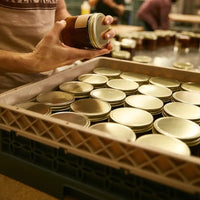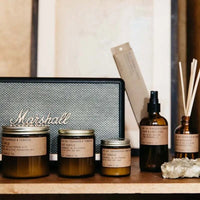 Teakwood & Tobacco - 12.5 oz Large Soy Candle, Handmade Candles
With notes of leather, tea, and orange, these large soy candles are ideal for those who prefer candles with a long burn time. The candles are hand-poured into apothecary inspiring large amber glass jars with kraft labels and brass lids. 
It is perfect for large spaces or rooms with high ceilings as it burns for 60-70 hours. The fragrance is paraben-free, phthalate-free, and not tested on animals. Dimensions: 3.6"x3.75"
100% domestically-grown soy wax, fine fragrance oils, and cotton-core wicks.
Trim your candle's wick to 1/4" before each use. Allow the entire top layer of wax to melt to the edges of the jar during each burn to prevent tunneling. Don't burn the candle for more than 4 hours at a time.