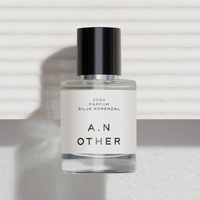 A. N OTHER x Silje Norendal Parfum 50mL
This perfume is an ode to the wild Osmanthus flower and is curated by 2-time Olympian and 4-time X-Games Gold Medalist Silje Norendal. Made by fusing sweet, feminine, and floral notes with leather undertones, the union blurs gender lines and can be used by anyone.


It has a naturally juicy and peachy scent of Osmanthus flower absolute which is contrasted with the freshness of sea salt accord. Notes: Top: Sea Side Breeze, Louisiana Peach, Clementine. Heart: Osmanthus Flower, Orchid, Tuberose. Base: Solar Musk, Driftwood, Bamboo.
Sustainably and responsibly sourced ingredients free of toxins, animal products, and dyes.
Apply as desired and enjoy!