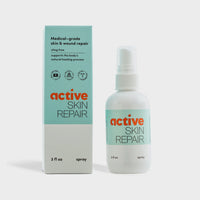 Active Skin Repair
This multi-functional first-aid treatment will heal wounds in a painless, non-toxic way. Active Skin Repair Spray is a clinically proven, medical-grade formula that repairs and heals skin. It can be used to treat wounds, cuts, sunburns, insect bites, scrapes and irritation all over the body. 
This revolutionary formulation is natural, non-toxic and doesn't sting the skin. It uses Hypochlorous acid(HOCL), a naturally occurring molecule produced by white blood cells that our body uses internally for healing. HOCL has been used in hospital settings for decades and is now available for consumer use through Active Skin Repair Spray.
The product has won multiple awards and is FDA-cleared, hypoallergenic, oil-free, and formulated without petroleum, antibiotics, paraben, fragrances or other harsh chemicals.  
Active Ingredients: Hypochlorous Acid (HOCl) 0.012%
Inactive Ingredients: Electrolyzed Water (H2O), Sodium Chloride (NaCl), Phosphates
Apply the spray liberally to the affected area 1-5 times per day or as needed.