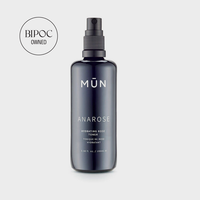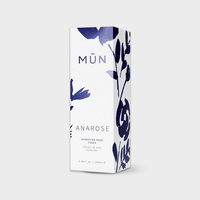 Anarose Hydrating Rose Toner
Soothe, hydrate, and balance your skin's pH levels after cleansing with this toner from Mun Skin. It has hyaluronic acid for long-lasting hydration, rose water to soothe and balance pH levels, willow bark extract to gently exfoliate the skin, and antioxidant-rich botanical extracts to fight free radical damage for well-aging.
The pH level of the toner is 4.4-4.5. It is vegan, cruelty-free, made from organic and naturally-derived ingredients, and suitable for all skin types.
Rose Water, Aloe Leaf Juice, Prickly Pear Stem Extract, Goji Berry Fruit Extract, Hyaluronic, Willow Bark Extract, Rose Flower Extract, Jasmine Flower Extract, Daisy Flower Extract, Xanthan Gum, Glycerin, Dehydroatic Acid, Benzyl Alcohol, Maltodextrin, Deionized Water.
After cleansing, soak a cotton pad with toner and sweep it across the face. Follow up with serum and moisturizer.