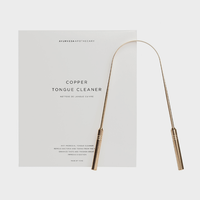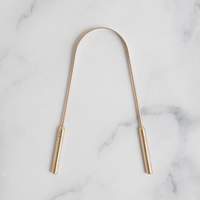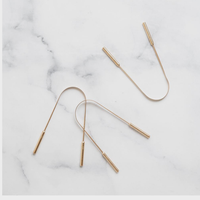 Ayurveda Copper Tongue Cleaner
This FDA-approved copper tongue scraper helps reduce bad breath, improves taste, and prevents dental plaque from damaging your teeth and gums. It is an ancient ayurvedic oral care practice to remove the white film of toxins on your tongue every morning and night.
Copper has antibacterial properties that prevent bacteria from growing on the scraper. The tongue scraper is sustainable and lasts forever unlike plastic tongue scrapers that need to be replaced frequently. It is made from 100% copper and has a non-synthetic grip handle to make it environment-friendly. Size: 1/4" x 5 1/2"
After brushing, stick out your tongue and start scraping from the back of the tongue using light pressure. Rinse the scraper underwater in between and swish your mouth with water afterward.