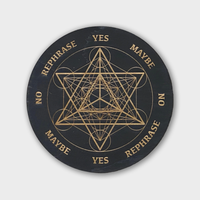 Merkaba Metatron's Cube Pendulum Board
This unique engraved Pendulum board is used with pendulums for divination purposes. It is a 4" round board handmade from Maple plywood with a Metatron's cube engraved in the center. The small size will fit into any bag making it travel-friendly.
Hold a pendulum over the board to seek answers.