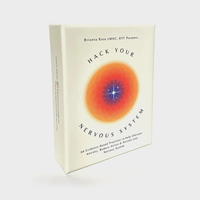 Hack Your Nervous System Cards
Designed by a licensed mental health counselor, this card deck has 60 evidence-based practices that help alleviate anxiety, reduce stress and reprogram the nervous system. It is a cheat code to reclaim a sense of calm and safety in your life.


The practices have been adapted from the ancient lineages of Yoga, Qi Gong, Buddhism, and Eastern Medicine, as well as the present-day science of Somatic Therapy. It will help improve your mind-body awareness to help control stress and anxiety and offer a sense of empowerment.