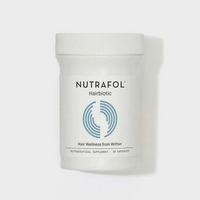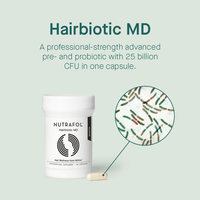 Hairbiotic MD
Hairbiotic MD is a physician-formulated probiotic designed to improve your hair quality. It has 20 billion CFUs of 7 probiotic strains, including Lactobacillus reuteri, that promote healthy gut bacteria and improve nutrient retention to make your hair thicker. 
It also has targeted bacteriophage, which is a beneficial microorganism that controls bad bacteria. The acid-resistant capsules travel to your digestive tract without being damaged by stomach acids. They also protect your hair from environmental and hormonal stressors to encourage healthy hair growth.
Lactobacillus Helveticus, Lactobacillus Reuteri, Lactobacillus Acidophilus, Lactobacillus Plantarum, Bifidobacterium Lactis, Lactobacillus Rhamnosus GG, Bacillus Subtilis
Bacteriophage Prebiotic, Rice Maltodextrin, Capsule (Hypromellose, Pectin, Water), Medium Chain Triglycerides (MCT), Silica.
Does Not Contain: Gluten, Soy, Shellfish.

Take one capsule every day, with or without food.