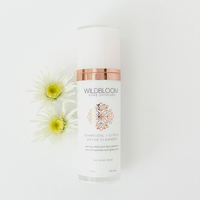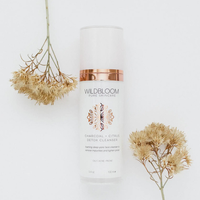 Herbal Charcoal + Citrus Face Cleanser
Designed specifically for oily, acne-prone skin this herbal foaming face cleanser from Wildbloom Skincare cleanses and clarifies the skin. It has activated charcoal to pull out impurities in the skin and organic fruit extracts that exfoliate the skin while reducing inflammation.
The formula is vegan, cruelty-free, and does not contain sulfates, parabens, phthalates, fragrances, or allergens.
Water, Cocamidopropyl Betaine, Sodium Coco-Glucoside Tartrate, Disodium Coco-Glucoside Citrate, Phenoxyethanol, Organic Lavender Flower Water, Roman Chamomile Flower Water, Activated Charcoal, DMAE Bitartrate, Glycerin, Hydrolyzed Quinoa Protein, Provitamin B5, Organic Rooibos Leaf, Organic Sugar Cane Extract, Organic Bilberry Fruit Extract, Organic Sugar Maple Extract, Organic Orange Peel Extract, Organic Lemon Peel Extract, Organic Cranberry Fruit Extract, Tea Tree Leaf Oil, Blended with the Essential Oils of Sweet Basil, Cedarwood, Cypress, Pink Grapefruit, Juniper Berry, Lemon, Sweet Orange, Rosemary, Eucalyptus, and Wild Oregano, Xanthan gum, Organic Alcohol, Tetrasodium Glutamate Diacetate.
Shake well before use. Massage the cleanser on damp skin using gentle, circular motions. Rinse with water and pat dry skin with a soft towel. Follow up with a toner and moisturizer. Use every morning and night.