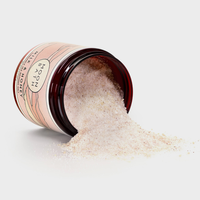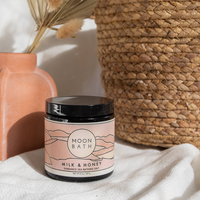 Honey Infused Sundance Sea Salt Body Scrub
Enhance your bath ritual with these sea salt bath scrubs from Moon Bath. Infused with coconut milk and honey, it leaves your skin silky soft and turns your bath into a therapeutic experience with the grounding aroma of frankincense, lavender, and bergamot essential oil.
The salt is sourced from the mineral-rich bed of the Sundance Sea and has 60+ trace minerals that heal your skin, improve circulation, and soothe aches.
Ancient Sundance Sea Salt, Honey Crystals, (dehydrated) Coconut Milk, essential oils of Frankincense, Lavender, and Bergamot.
Add it to your bath and soak in it or use it as a body scrub to exfoliate your skin.