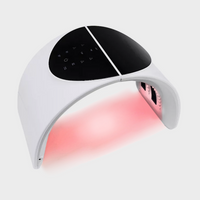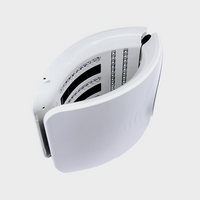 LED Photon Light Therapy Machine (Foldable with 7 Colors)
Discover the benefits of LED photon light therapy with this foldable at-home system. The light therapy machine uses LEDs with 640 nm and 1 - 6 mm penetration depth. With 7 light color settings, this light therapy machine delivers the healthy, glowing, and youthful-looking skin you want. LEDs cycle through seven colors: red, green, blue, yellow, cyan, and purple. 
Light therapy has a biochemical effect on skin cells that strengthen the mitochondria. It can be safely used every day as part of your skincare routine or to promote healing after cosmetic treatments. Red light improves the appearance of enlarged pores, fine lines, & wrinkles by stimulating collagen & elastin production & controlling sebum levels. It is a medically-approved rosacea treatment since it improves skin hydration & calms inflammation.

Green light fights environmental stressors, inhibits melanin production, & brightens skin.

Blue light has an antibacterial & calming effect that can help manage acne-prone skin by reducing the size of acne lesions. It can also control sebum production & help manage skin conditions like eczema and psoriasis.

Yellow light revitalizes skin by increasing nutrient exchange in the skin cells. It also reduces hyperpigmentation & promotes lymphatic drainage whilst reducing inflammation.

Cyan light has the combined effect of yellow & green lights, while purple light has the combined effect of red & blue light.
Lie down with your face underneath the light screen & let the LED lights work their magic.