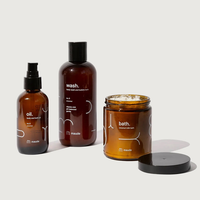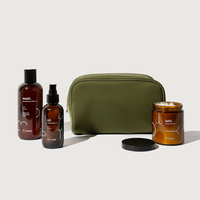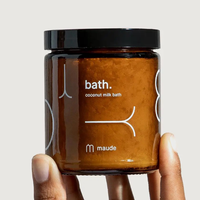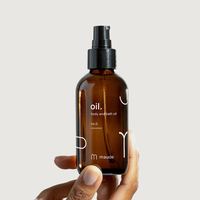 Limited Edition Organic Wind Down Bath Kit
This complete bath and self-care kit from Maude is perfect to nourish your skin. It contains pH-balance wash, coconut soak, and body oil packaged in a limited edition Holiday Dopp kit made from 100% neoprene.
pH Balance Wash The wash is a fragrance-free gentle formula that cleanses your skin and intimate area without any irritation and can create a sudsy bath for you and your partner. It is also fortified with essential vitamins and omega acids that nourish and soften the skin. . Body oil The fragrance-free body oil is ideal for hydrating and massaging your skin every day and can be added to a warm bath for extra. It is a blend of certified organic jojoba, coconut, argan, and castor oils that absorb quickly oil while nourishing and softening your skin from head to toe. Coconut Soak The bath soak is a mix of coconut milk powder and mineral-rich salts from the Southern dead sea. It softens, hydrates, and detoxifies the skin while increasing circulation softens and hydrates while pure, hand-harvested salts from the Southern Dead Sea infuse water with vitamins and minerals including magnesium, potassium, sulfur, zinc, and more to increase circulation and detoxify the body.
Sodium Chloride (Dead Sea Salt), Sodium Bicarbonate (Baking Soda), Cocos Nucifera (Dehydrated Coconut Milk) Powder

Wash: Gently massage the wash all over the body and rinse thoroughly. Or pour it into a bathtub filled with warm water for a bubble bath.
Soak: Add a handful to warm water and swirl it until absorbed. Soak for 20 minutes. Rinse and towel dry.
Oil: massage 4-5 pumps of oil liberally on your skin or add it to warm water for a moisturizing bath.