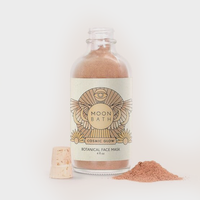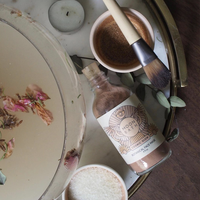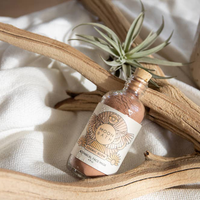 Cosmic Glow Botanical Face Mask
This Ayurveda-inspired face mask from Moon Bath rejuvenates your skin to enhance its natural radiance.
It combines mineral-rich Moroccan Rhassoul clay with nourishing Ayurvedic herbs like Triphala, Guduchi, Anantmool, Rose petals, and Manjishta to draw out toxins, reduce redness, and inflammation, smooth uneven skin and brighten your overall complexion.
Triphala (Amalaki, Bibhitaki and Haritaki), Manjistha (Rubia cordifolia), Anantamul (Hemidesmus indicus), Guduchi (Tinospora cordifolia), Rose Petals (Rosa damascena), Moroccan Rhassoul Clay
Take a generous teaspoon of face mask and mix it with honey and water. Apply it evenly on clean skin and let it dry. Rinse with warm water and follow up with toner and moisturizer.