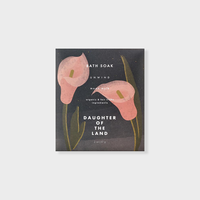 Moon Mylk Single Bath Soak
This luxurious, milky bath soak has notes of sandalwood and lavender to promote sleep and relaxation. Along with Epsom salt, it has soothing colloidal oats, a clinically proven topical treatment for treating dry skin, rashes, and eczema.
Scent: Celestial fresh, happy and calm All the ingredients are certified organic and fair trade, and the packaging is compostable. The bath soak is also vegan, cruelty-free, and fragrance oil-free.
Colloidal Oat Kernel Flour, Epsom Salt, Avocado Oil, Lavender Oil, Sandalwood Oil.

Add bath soak to the bath while the water is running. Swirl it in until it is completely dissolved.