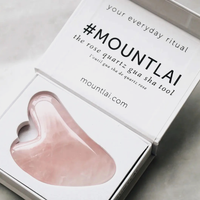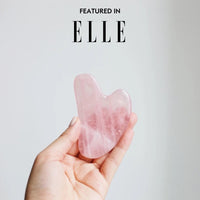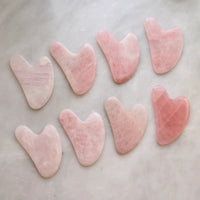 Rose Quartz Gua Sha Facial Lifting Tool
Create a daily self-care and well-aging ritual with this Rose Quartz gua sha tool from Mount Lai. Gua sha stone massage practice has been a part of traditional Chinese medicine since ancient times.  
A few minutes of massage every day promotes blood circulation and lymphatic drainage, which reduces puffiness and wrinkles and gives your face a sculpted, radiant appearance. Now it is your turn to discover this well-aging secret for yourself.
Rose quartz is a crystal known as the stone of love because it promotes self-love, acceptance, and reflection. The Rose Quartz gua sha tool is perfect for anyone who wants to bring peace and calmness into their daily self-care rituals.

Note: Mount Lai Rose Quartz gua sha tool is made from authentic and natural rose quartz crystal, so each piece has a unique pattern and color due to natural variations.
Prep your skin for gua sha facial lifting by cleansing and applying facial oil to lubricate your skin. Keep the stone flat on the skin and scrape upwards, starting at your forehead. Then move downwards, towards the cheeks and jawline using outward motions towards the ear. For the under-eye area, very gently scrape the rose quartz gua sha tool from the inner corner of the eye outwards to the temple.