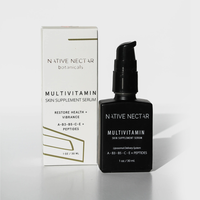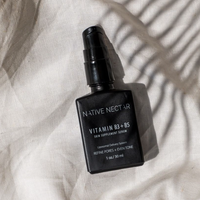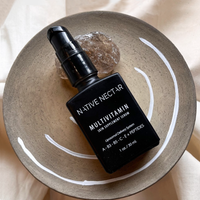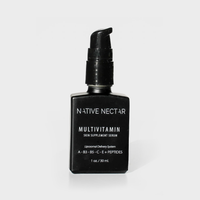 MultiVitamin Skin Supplement Serum
This multitasking serum has all the key vitamins and botanical extracts your skin needs for healthy functioning. It has Vitamin A (Retinol), Vitamin B3 (Niacinamide), Vitamin B5 (Panthenol), and Vitamins C & E, along with peptides, collagen, and Beta Glucans, ingredients that are naturally present in the skin but diminish with age.
The serum will help improve cell turnover, fight off free radical damage, soothe irritated skin and stimulate collagen production for a healthy, youthful appearance of skin. It is free from animal testing, parabens, formaldehyde releasers, phthalates, sulfates, palm oil, and other filler ingredients.
Aloe Barbadensis (Aloe Vera) Leaf Juice (And) Camellia Sinensis (Green Tea) Leaf Extract (And) Camellia Sinensis (Darjeeling Black Tea) Leaf Extract (And) Centella Asiatica (Gotu Kola) Extract (And) Aspalathus Linearis (Rooibos / Red Bush) Leaf Extract (And) Camellia Sinensis (White Tea) Leaf Extract, Propanediol (Vegetable)*, Hyaluronic Acid, Camellia Sinensis Seed Oil, Glyceryl Stearate Se, Hydrolyzed Cucurbita Pepo (Pumpkin) Seedcake, Prunus Amygdalus Dulcis (Sweet Almond) Seed Extract, Water & Phospholipids & Retinol & Panthenol & Niacinamide & Tocopheryl Acetate & Ascorbyl Palmitatedipalmitoylhydroxyprolene (DPHP), Phospholipid (And) Tocopherol Acetate (Vitamin E) Encapsulation, Squalane (Olive), Argania Spinosa (Argan) Nut Oil, Beta Glucan, Gluconolactone, Allantoin, Xanthomonas Campestris (Xanthan) Gum, Sodium Benzoate.
Twice every day, gently tap the serum into cleansed skin and follow up with a moisturizer.