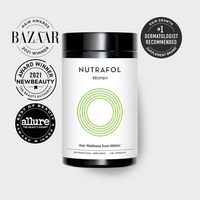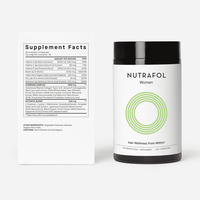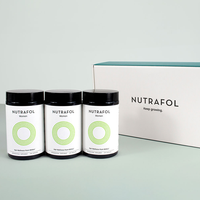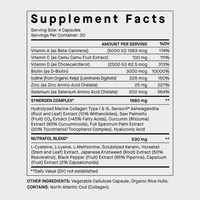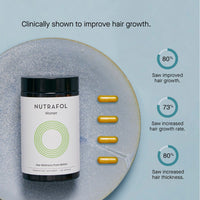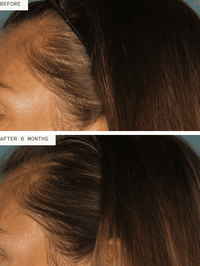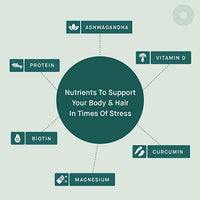 Nutrafol Women | Daily Hair Growth Supplement
Nutrafol Women is an award-winning, daily hair growth supplement formulated by physicians to target the 6 root causes of hair thinning in women. This formula helps fight hair loss caused by hormones, aging, metabolism, stress, nutrition, and lifestyle.

With a blend of clinically-proven ingredients, Nutrafol Women addresses internal imbalances to support and promote the hair growth cycle—resulting in hair that is thicker, fuller, and stronger.

After taking this formula for 6 months, 84% of women saw less shedding, and 90% saw an overall improvement in their hair.
Vitamin A, Vitamin C (Camu Camu Extract), Vitamin D, Biotin, Iodine (Organic Kelp Extract), Zinc, Selenium, Hydrolyzed Marine Collagen Type I & III, Saw Palmetto (Fruit) CO₂ Extract (>45% Fatty Acids), Hydrolyzed Marine Collagen Type I & III, Sensoril Ashwagandha (Root and Leaf) Extract (10% Withanolides), Liposomal Curcumin (Rhizome) Extract (>45% Curcuminoids), Full Spectrum Palm Extract (20% Tocotrienol/Tocopherol Complex), Hyaluronic Acid, L-Cysteine, L-Lysine, L-Methionine, L-Cysteine, Horsetail (Stem and Leaf) Extract, Japanese Knotweed (Root) Extract (50% Resveratrol). Black Pepper (Fruit) Extract (95% Piperine), Capsicum (Fruit) Extract (2% Capsaicinoids), Vegetable Cellulose Capsule, Organic Rice Hulls.

*Contains North Atlantic Cod Collagen
Take 4 capsules with your meal once daily.