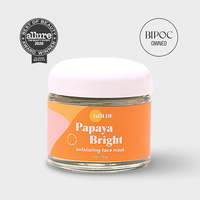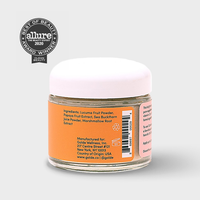 Papaya Bright Exfoliating Face Mask
Made with superfoods like lucuma, papaya, and sea buckthorn berry, this nutrient-dense face mask from Golde is packed with Vitamin C to give you brighter, glowing skin. Its powder-to-gel formula has a tropical aroma and exfoliates your skin gently for an even glow with help of natural papaya enzymes.
The face mask also has marshmallow root extract which hydrates your skin and calms inflammation. It is cruelty-free, vegan, and safe for all skin types.
Lucuma Fruit Powder, Papaya Fruit Extract, Sea Buckthorn Juice Powder, Marshmallow Root Extract.
Mix 1/2-1 tsp face mask with a few drops of water and apply a thin, even layer on the skin. Leave it on for 10-15 minutes before rinsing off with water. Use 1-3 times a week for best results.