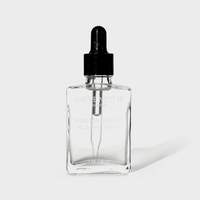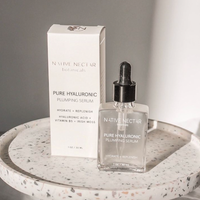 Pure Hyaluronic Plumping Serum
This 100% natural hyaluronic acid serum boosts hydration to give you plump, healthy skin. It gets absorbed quickly into the skin and locks moisture by binding water to the skin. 
The key ingredient is Hyaluronic Acid which draws moisture to the surface of your skin, improves elasticity, and diminishes the appearance of fine lines. It also has Irish moss which is packed with water-binding vitamins and minerals, and Provitamin B5 with soothing properties to keep skin calm and healthy. It is free from animal testing, parabens, formaldehyde releasers, phthalates, sulfates, palm oil, and other filler ingredients.
Purified Water, Hyaluronic Acid, Propanediol (Vegetable), Panthenol (ProVitamin B5), Irish Moss (Carageenan), Gluconolactone, Sodium Benzoate.
Twice every day, gently tap the serum into cleansed skin and follow up with a moisturizer.