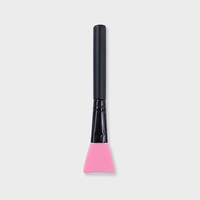 Silicone Mask Applicator with Wooden Handle
Want a mess-free face-masking experience? These colorful and durable silicone brushes make it easier to apply an even layer of face mask.
They work with cream, gel, or clay face masks and even reduce product wastage. The silicone brushes can also be used as a spatula to scoop moisturizer from a jar without contaminating it with your fingers.
Scoop out the mask with the silicone brush and apply an even layer starting from the center of your face. Use outward strokes and avoid the mouth and eye area. To clean the brush, rinse it with soap and water, and pat dry.