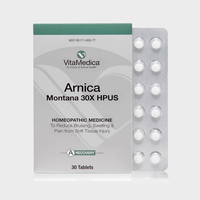 Arnica Montana 30X Blister Pack
Arnica Montana 30x is physician-formulated to promote skin healing after aesthetic procedures like botox injections, fillers, and more. The Arnica Montana plant is a traditional homeopathic remedy used for centuries to boost healing.
Helps reduce bruising and swelling while providing pain relief for faster recovery. VitaMedica Arnica Montana 30x supplement comes in a convenient 5-day pack and is perfect for people with busy lifestyles looking to reduce downtime after cosmetic procedures. The sublingual tablets dissolve quickly, leaving no chalky taste behind.
Active Ingredient: Arnica Montana.
Inactive Ingredients: Copovidone, Crospovidone, Lactose, Magnesium Stearate, Mannitol, Microcrystalline Cellulose, Silicon Dioxide, And Sorbitol.

*Contains Lactose (Milk)

Take 2 tablets, 3 times a day for 5 days. Put tablets directly under the tongue and let them dissolve naturally.

Consult a doctor if you are pregnant, breastfeeding, or face any adverse effects.