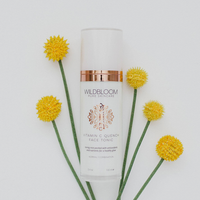 Vitamin C Quench Face Tonic
Quench your skin's thirst with this vegan, organic, and antioxidant-rich facial mist from Wildbloom Skincare. The toner balances skin pH level after cleansing and has an uplifting aroma from geranium and pink grapefruit essential oil for a pleasant experience.
The key ingredients are orange and lemon peel extracts that are rich in Vitamin C and fight harmful free radicals while brightening skin tone. The formula is suitable for normal or combination skin types and is free of gluten, parabens, phthalates, fragrances, and allergens.
Organic Aloe Leaf Juice, Organic Lemon Peel Extract, Organic Orange Peel Extract, Phenoxyethanol, Vitamin C, Organic White Willow Bark Extract, Polysorbate, Tea Tree Leaf Essential Oil, Geranium Essential Oil, Pink Grapefruit Essential Oil, Organic Alcohol, Tetrasodium Glutamate Diacetate. May contain organic fruit acids.
After cleansing, hold the bottle 8-10 inches away from your face and spray the toner all over your face and neck. Follow up with serum and moisturizer.