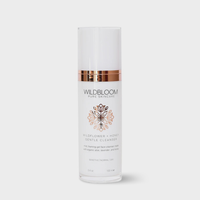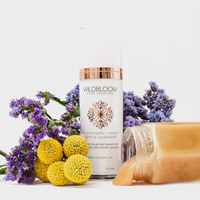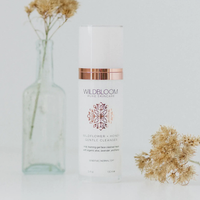 Wildflower & Honey Face Cleanser
This nourishing facial cleanser from Wildbloom skincare is ideal for deep cleansing of normal, dry, and sensitive skin types. The cleanser contains aloe leaf juice, oat straw extract, honey, lavender, and quinoa protein to improve skin health, soothe, and leave your skin soft and smooth.
The formula is vegan, cruelty-free, and does not contain sulfates, parabens, phthalates, fragrances, or allergens.



Allergen-free, cruelty-free, fragrance-free, gluten-free, paraben-free, phthalate-free, Non-GMO.
Ingredients: Aloe Barbadensis (Organic Aloe) Leaf Juice, Lavandula Angustifolia (Organic Lavender) Distillate, Cocamidopropyl Betaine, Sodium Cocopolyglucoside Tartrate, Sodium Cocopolyglucoside Citrate, Avena Sativa (Organic Oatstraw) Extract, Phenoxyethanol, Xanthan Gum, Glycerin, Organic Honey, Meadow Foam Flower Oil, Lavandula Angustifolia (Organic Lavender) Flower Oil.
Use every morning and night.

Massage the cleanser on damp skin using gentle, circular motions. Rinse with water and pat skin dry with a soft towel. Follow up with a toner and moisturizer.